Health and Safety Training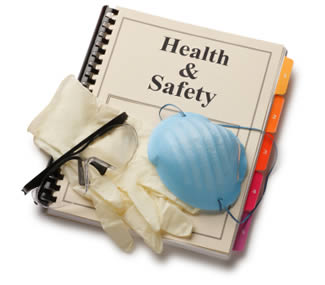 Health and safety experts recognize that generic training tends to be ineffective; showing videos that deal with general situations does not modify a worker's behavior as much as focusing on hazards specific to a particular workplace. COEH will tailor training programs to an individual facility by: (1) working closely with supervisors and management to add facility-specific details to the training materials; and (2) incorporating findings from recent health and safety audits into training programs. To minimize impacts on productivity and to accommodate employee schedules, our experienced instructors provide on-site training and flexible class times.
Services
• Laboratory Safety. The OSHA Laboratory Standard requires that all individuals working with hazardous chemicals in laboratories attend laboratory safety training. With experience working in biological research laboratories, COEH instructors will train your scientists on the fundamentals of lab safety, with particular emphasis on facility-specific hazards. Some of the topics include: chemical hazards, electrical hazards, emergency preparedness, fire control, hazardous material storage, hazardous waste management, personal protective equipment, and ventilation.
• Respiratory Protection. Training is required to comply with the OSHA Respiratory Protection Standard. COEH scientists will determine the type of respirator and filtering media needed by employees based upon specific workplace contaminants and the potential for inhalation exposure. To ensure that attendees have learned key concepts, such as properly donning respirators and performing seal checks, COEH incorporates hands-on exercises and individualized fit testing services as part of respiratory protection training.
• Hazard Communication. OSHA's Hazard Communication Standard is designed to protect against chemical source illnesses and injuries by ensuring that employers and employees are provided with sufficient information to recognize chemical hazards and take appropriate protective measures. COEH will develop and implement comprehensive chemical hazard communication programs that include material safety data sheets (MSDSs), labels, and worker training.
• Bloodborne Pathogens. — OSHA's Bloodborne Pathogens Standard requires that employees receive training when they are assigned to tasks where occupational exposure to bloodborne pathogens may occur. COEH Bloodborne Pathogens training is facility-specific and pays particular attention to: (1) activities that may involve exposure to blood and other potentially infectious materials; and (2) methods for preventing or reducing exposure, including engineering controls, work practice procedures, and personal protective equipment. Our training also contains information on: the specific pathogens of concern, the diseases they cause, and their mode of transmission; appropriate emergency response to pathogen exposures; and exposure incident procedures.
• Specialized Training. COEH provides novel health and safety training courses for clients. Some examples include:

Development of injury and illness recordkeeping training.

Development of toxicity primers for attorneys involved in litigation concerning hazardous chemicals or biological agents.

Development of training for consumer product companies subject to TSCA 8(c) requirements. This regulation is triggered whenever an alleged health or environmental complaint is received that meets the definition of a "significant adverse reaction." COEH will train the company's customer service representatives on standard operating procedures for responding to these complaints.