Laboratory Health and Safety Services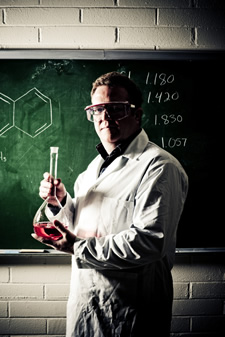 Laboratories differ from traditional industrial operations in their use, handling and control of hazardous materials, physical agents and biological materials. Keeping the laboratory work environment safe presents unique challenges requiring specialized health and safety support by professionals whose principal focus is on laboratory hazards and control measures.
Our certified industrial hygienists (CIHs) have extensive experience in laboratory health and safety. They bring impeccable credentials, hands-on laboratory experience working in clinical and biological research settings, and extensive involvement with laboratory safety professional associations, including the AIHA Laboratory Health and Safety Committee. COEH's laboratory health and safety services will take you beyond regulatory compliance — it will keep your laboratory operations running in a safe and healthful manner.
Services
COEH offers a comprehensive suite of services designed to assist laboratories from the design stage to the decommissioning stage. For example, for new labs or start-ups, please see COEH's "Top 10 Tips."
• Laboratory Design. Ensuring a healthy laboratory work environment begins with design. COEH can interface with your Architect/Engineering firm to ensure that chemical storage areas, chemical fume hoods, biosafety cabinets, fire extinguishers, emergency showers, and eyewashes are in the proper locations within your newly designed facility.
• Laboratory Inspection Prior to Occupancy. To avoid any liability or compliance issues associated with previous tenants, COEH can assess the laboratory that you are about to occupy to determine if it is free of any residual contamination. Our scientists will make sure that existing work surfaces, exhausts, and shipping/receiving areas have been adequately decontaminated and/or tested.
• Permit Requirements for Local Jurisdictions. As part of the permit application to your local jurisdiction, COEH will prepare a Hazardous Material Report to address chemical quantities, chemical categories, and engineering controls.
• Chemical Hygiene Plan. As required under the OSHA Laboratory Standard, COEH scientists will develop and implement a Chemical Hygiene Plan and train your employees on that plan. The plan will address: the roles and responsibilities of laboratory personnel, employee information and training, standard operating procedures, control measures, exposure monitoring, medical consultations and examinations, and special procedures for highly toxic chemicals.
• Laboratory Safety Audits. COEH scientists have performed comprehensive laboratory safety audits at more than 30 facilities. Our audits include an assessment of: chemical storage, ignition sources, chemical waste, biohazard waste, emergency equipment/egress, and emergency preparedness.
• Material Safety Data Sheets (MSDSs). Our experienced team of Certified Industrial Hygienists/ toxicologists has been involved in the development or revision of over 600 MSDSs for products ranging from pharmaceutical intermediates and active pharmaceutical ingredients to specialty chemicals. Click here for additional information.
• Laboratory Decommissioning. The decommissioning process starts with a review of hazardous waste manifests, regulated medical waste manifests, drawings and blueprints. COEH scientists will ensure that: (1) all chemicals, hazardous and radioactive material, biological agents, and biological materials are properly removed or disposed; and (2) laboratory fixtures, surfaces, and equipment are properly decontaminated.